Chennai Field Trip Report
The MONASS team of researchers – Lindsay Bremner, Beth Cullen and Christina Geros – spent six weeks in Chennai during July and August 2017, undertaking field work to better understand the ways in which the monsoon is entangled in urban life and space in the city. Our work was facilitated by relationships with the School of Architecture and Planning at Anna University, the Indo-German Centre for Sustainability at IIT Madras and the Care Earth Trust, with particular thanks to Ranee Vedamuthu, Chella Rajan and Jayshree Vencatesan. We each undertook many interviews, both formal and informal, with academics, architects, city officials, community organisers, environmental activists, meteorologists, planners, retired administrators, real estate developers and urban residents; we undertook photographic and video surveys of a number of sites and Beth engaged in detailed ethnographic research around one particular water body.
My fieldwork began from the widespread claim circulating in Chennai's media since 2015 that "bad planning" was responsible for Chennai's ongoing vulnerability to floods and other extreme weather events. I found it intriguing that planning was so causally related to flooding in the popular imaginary and interested in finding out what was behind this. What agencies, ideas, policies, practices and processes were assembled in this idea of bad planning? Who or what was complicit in it? What were its spatial and material manifestations? How did these entrench the plan on the ground? Were there any ideas, counter arguments or counter practices being put forward, as to what might constitute good planning?
Episode 1
I stayed in a number of places in the city. The first was in a suburb quite far to the south that had been laid out in a coastal backwater between the Buckingham Canal and the sea the 1980's. It was a middleclass neighbourhood of three to four story villas interspersed with vacant lots. While staying there, I had my first experience of monsoon rain. It occurred at night. I woke up the next day to a damp, humid morning. The tarred roads were steaming. Between them, what had been scrubby vacant lots the day before, were now boggy wetlands, teaming with butterflies, lizards and happily wallowing water buffalo. The backwater had re-surfaced, its marshy hydro-ecology at odds with the hard surfaces and boundary walls of the human habitation inserted into it.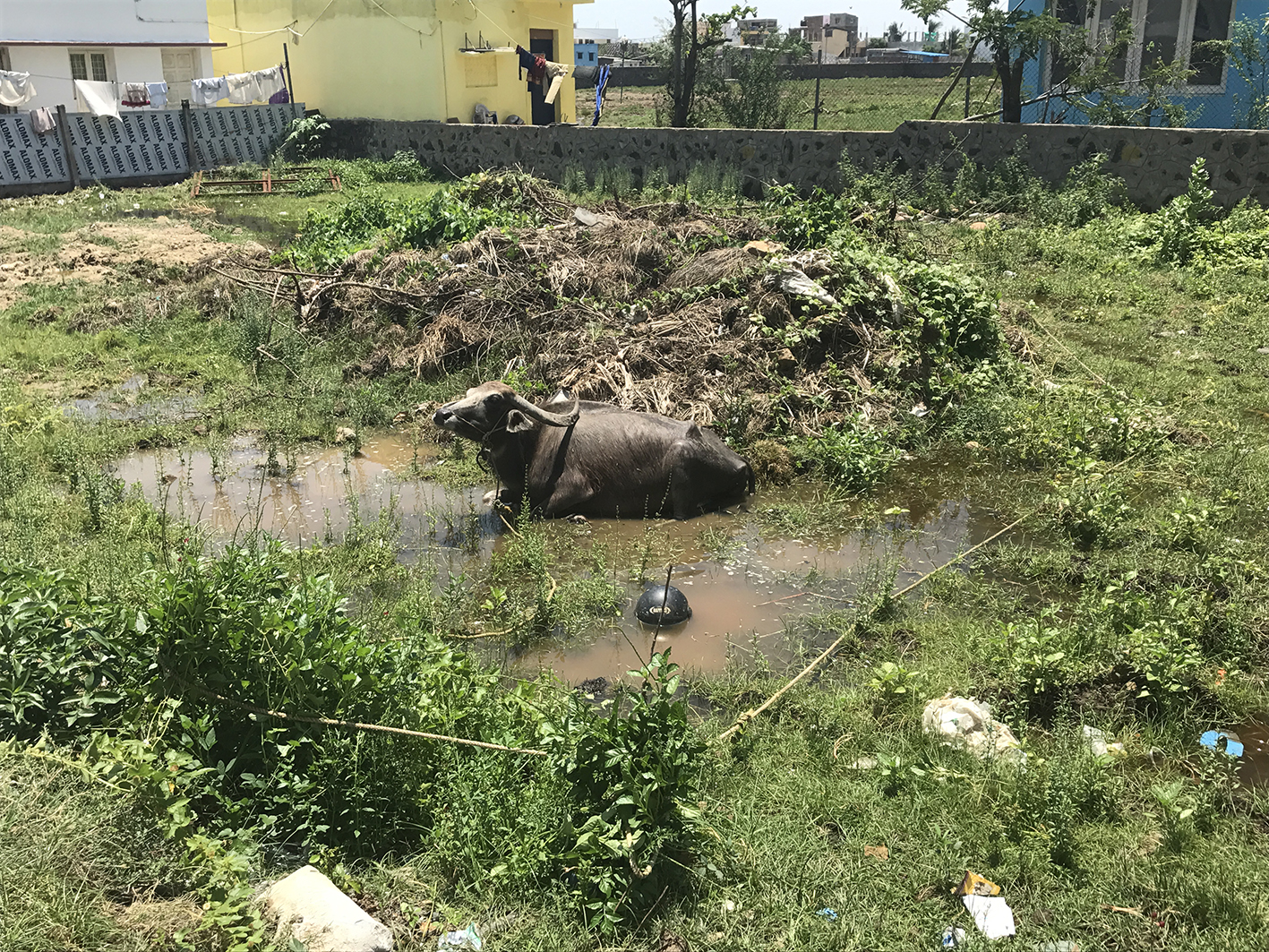 Episode 2
I then moved to a denser, older suburb just south of the Adyar River, where this hydro-ecology had been all but obliterated by tarred roads, concrete surfaces, storm water drains and seven to eight story apartment blocks. Here I became aware of the significance of the plinth, a device used by developers or property owners to raise the ground level of their property above that of those adjacent and the street. As these accumulate, they alter hydrological flows, determining the the likelihood of a property being flooded once the rains begin. Plinth height, or the lack thereof becomes a measure of vulnerability, which, given the resources that raising a property requires, is usually also a measure of wealth, class and caste.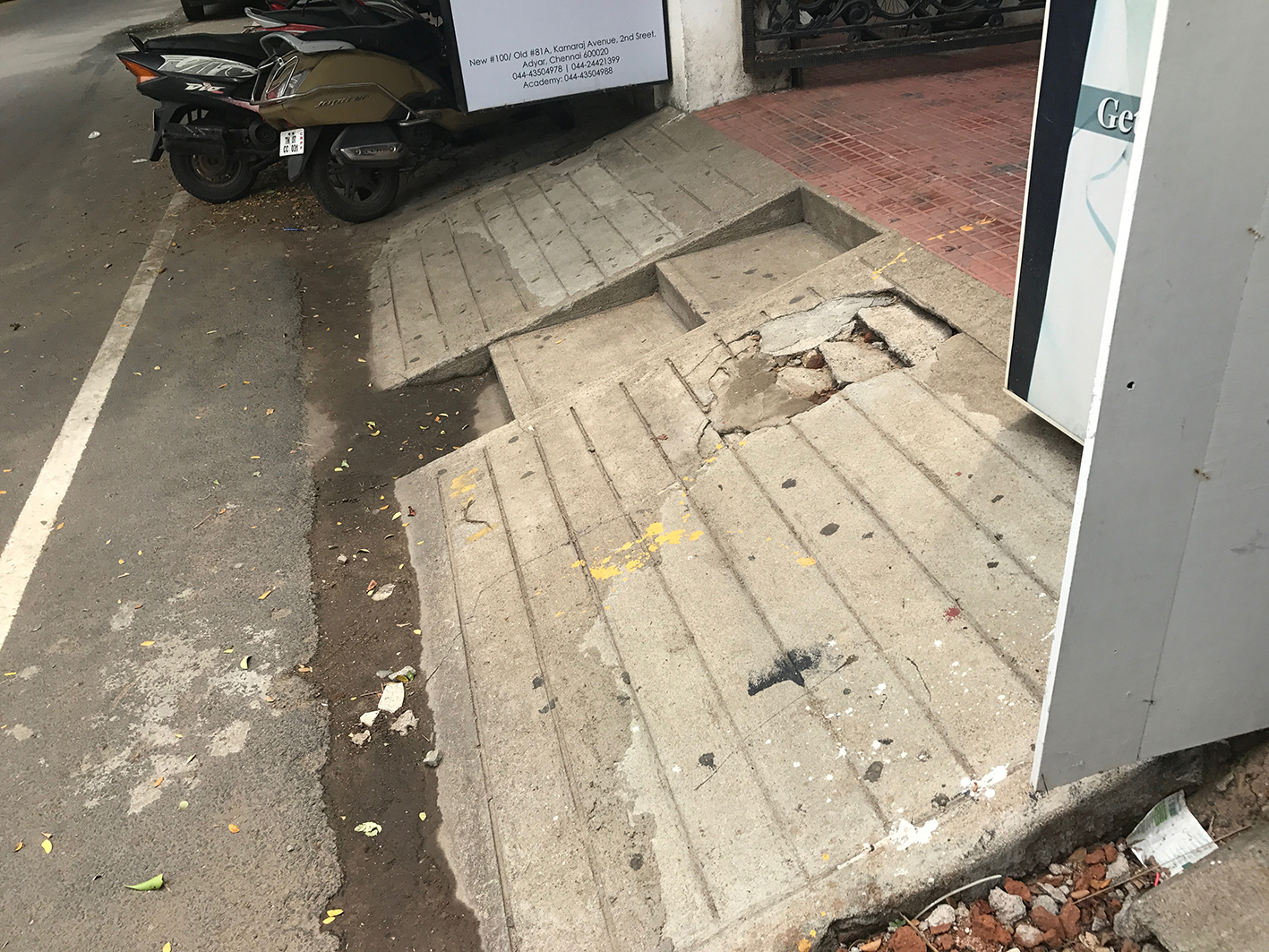 Epsiode 3
While staying in this suburb, I made a number of day trips to the far southwest of the city, where I observed the process of marshland being turned over to housing. Soggy terrain is divided into lots demarcated with stone or concrete corner posts; boundary walls are erected; building rubble or trash is dumped to raise the ground level; this is eventually consolidated into a concrete-walled plinth and apartment building follows. Only if plans are approved by the Chennai Metropolitan Development Agency are roads constructed and drainage and services provided, but this is not always the case. This means that, more often than not, waste water and sewage is decanted into the closest undeveloped lot, until it too is developed and the waste is redirected elsewhere. Apartment buildings are often marooned in this sludgy wetland for years, till regularised i.e. approved as an act of political expediency, in the next election cycle.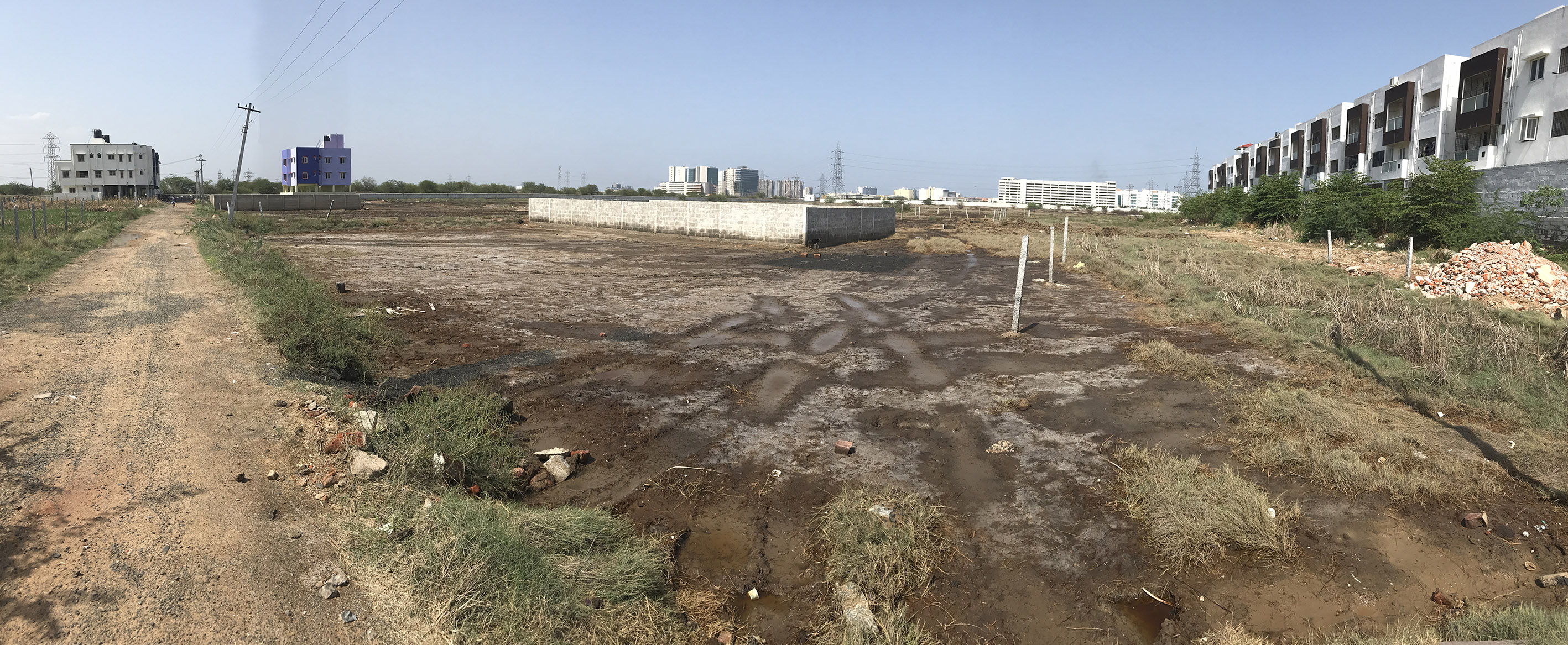 Episode 4
In part of the city even further to the southwest, I visited two multi-story, multi-block housing developments being built by two of Chennai's leading housing construction companies. They were being built not alongside, but over, the historic overflow channel connecting a large water body to the west to a marshland to the east. Critical during times of heavy rainfall as a way of channeling excess water through the marsh to the sea, this route had been constricted, canalized and passed under the apartment complexes, exiting as a toxic, trash and sewage filled trickle.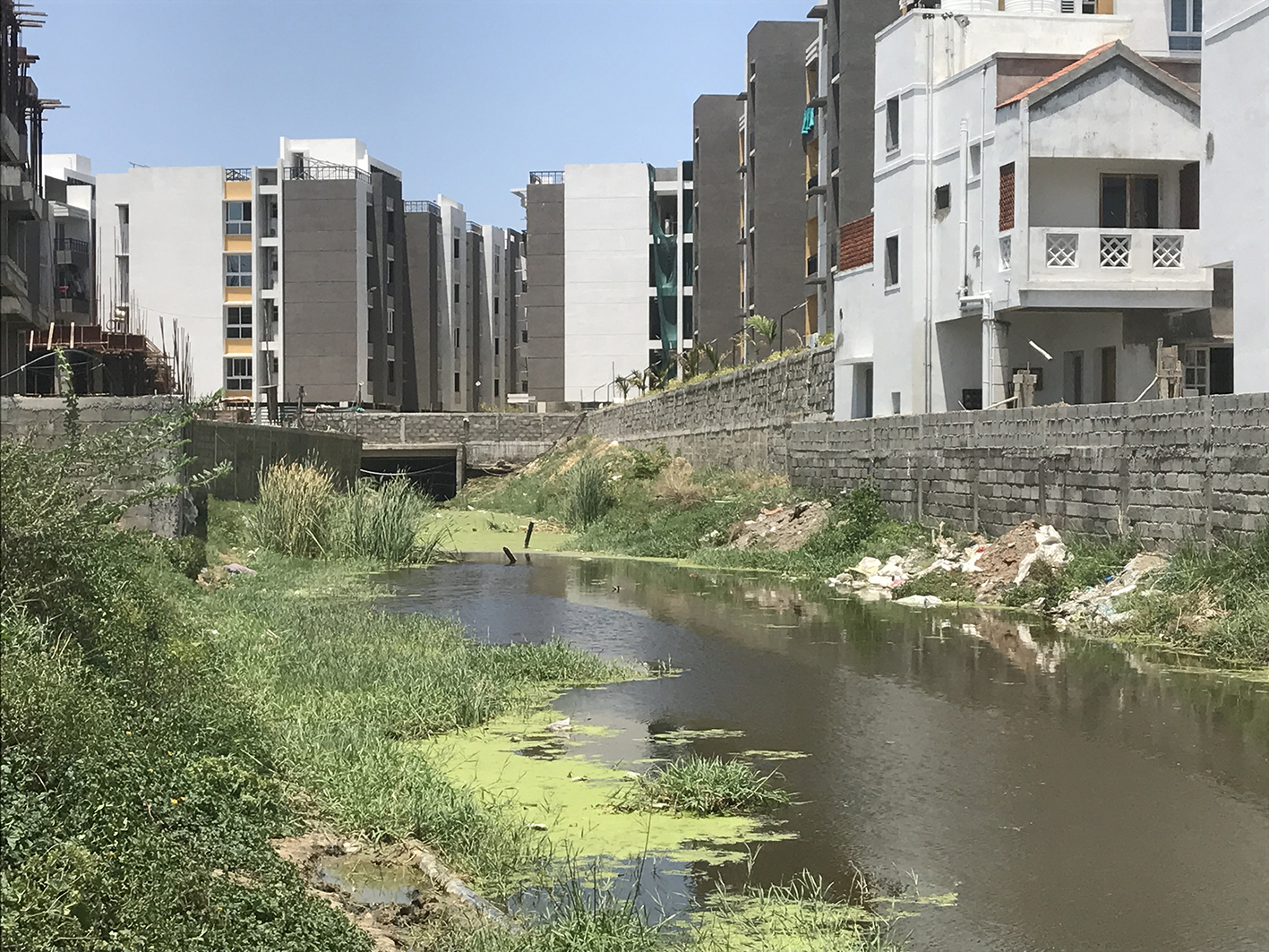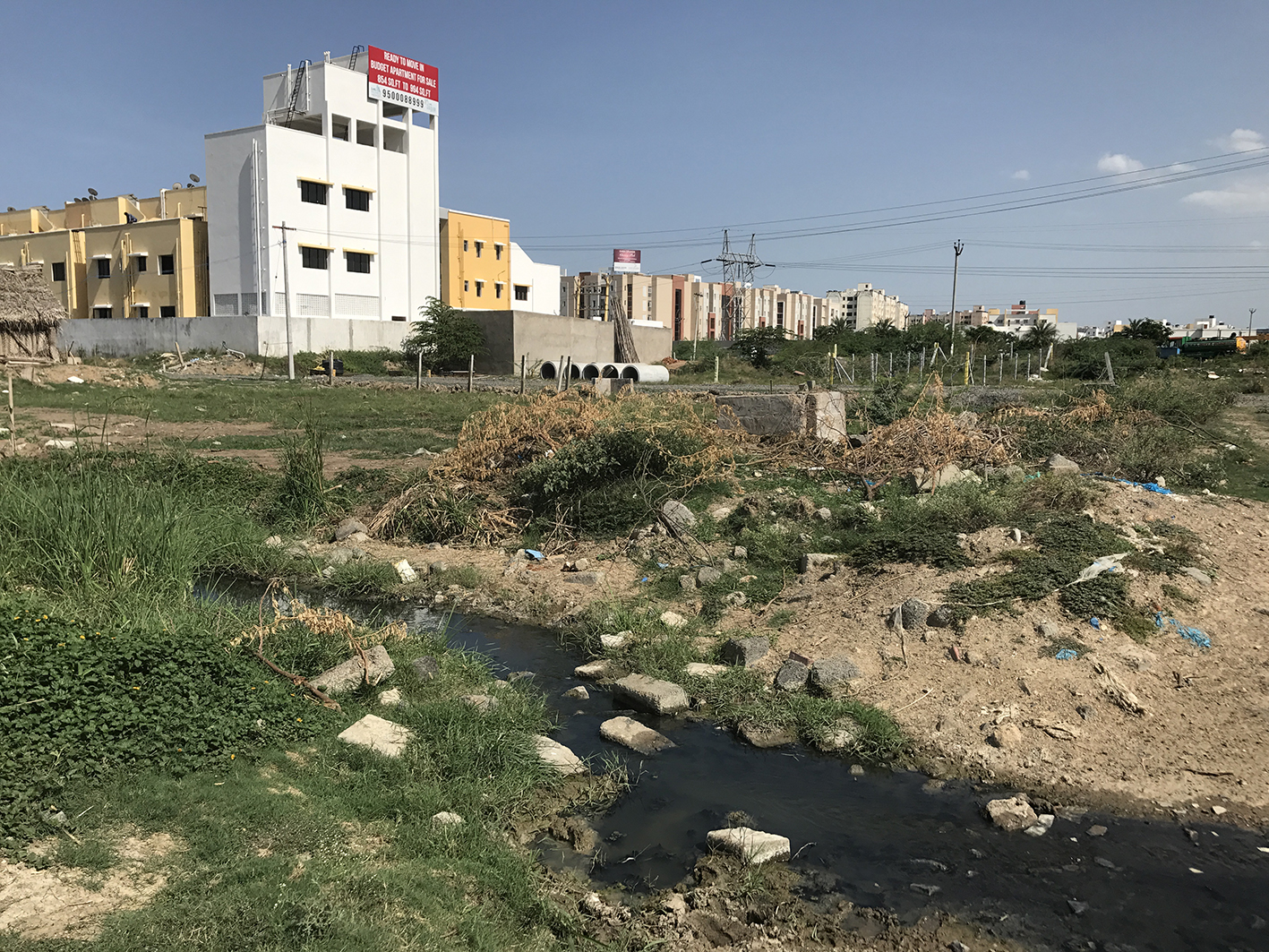 I was beginning to get an idea of what might be meant by bad planning. It was less about a plan, for most of what I observed had little to do with Chennai's Second Master Plan, the official plan which directs development in the city. It had more to do with agendas and practices in excess of the plan that combine real estate interests and political expediency to encroach on common land, which, in Chennai, is, historically, land seasonally occupied by water.
The dictionary definition of encroach is "to enter by gradual steps or by stealth into the possessions or rights of another." What I had witnessed in Chennai was the dispossession of water, seasonally deposited by the monsoon, of its habitual places in the city (rivers, wetlands, marshland, lakes, channels, aquifers etc.), leaving it nowhere to go but up. Infringements of water's places in and rights to the city had resulted in an urbanism in which flooding was not an unanticipated consequence, but an inevitability.
I will be unpacking these initial observations and developing my thesis about bad planning further over the next few months, through drawing and writing.