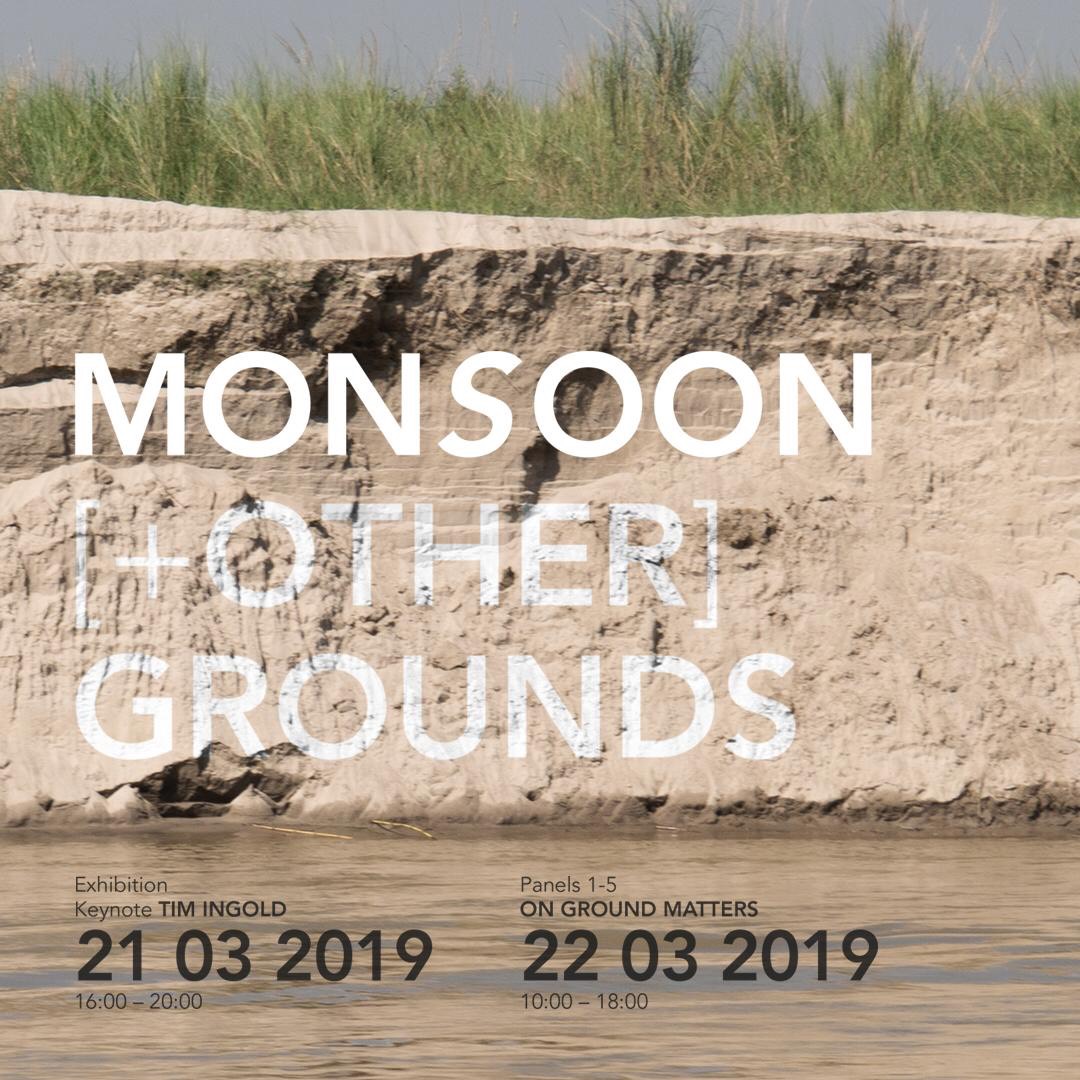 We are pleased to announce the programme for Monsoon [+ other] Grounds, the third and final symposium that Monsoon Assemblages will convene before its final conference in 2021. Monsoon [+ other] Grounds will take place in M416, University of Westminster Marylebone Campus, 35 Marylebone Road, London NW1 5LS on 21 and 22 March 2019.
The programme is as follows:
Thursday 21 March
15.30     Registration / tea
15.45     Welcome by Simon Joss, University of Glasgow
 
16.00 – 17.00 Exhibition walk-about led by John Cook
Exhibitors: Alexandra Arenes , Matt Barlow , Blue Temple, Hari Byles, Corinna Dean (presented by Duarte Santo), DS18 students, Tumpa Fellows, MONASS, Ben Pollock
17.00 – 18.00 [multi]grounds
Chair: Ed Wall, University of Greenwich
Lindsay Bremner, MONASS: On sediment as method
Ifor Duncan, Goldsmiths College: Sedimentary Witness
 
18.30 – 20.00  Keynote Lecture               
Chair: Lindsay Bremner
Tim Ingold, University of Aberdeen, introduced by Beth Cullen
Friday 22 March
 
09.45     Registration / coffee
10.00     Welcome + introduction by Lindsay Bremner
10.15 – 11.30 [over]ground matters
Chair: Godofredo Pereira, Royal College of Art
Alexandra Arenes, University of Manchester: Mapping the Critical Zones
Christina Geros, MONASS: Here be Dragons
Avi Varma, Goldsmiths College: Unjust Intonations
11.30 – 11.45 Tea
11.45 – 13.00 [inter]ground matters
Chair: Kirsten Hastrup, University of Copenhagen
Owain Jones, Bath Spa University: Monsoon + Tide
Jonathan Cane, University of the Witwatersrand: Permeability, Ocean, Concrete
 
13.00 – 14.00 Lunch
Convivial grounds
14.00 – 15.00 [under]ground matters
Chair: Tim Waterman, The Bartlett UCL
Anthony Powis, MONASS: Materiality of Groundwater: Leaking, Seeping, Swelling, Cracking
Matt Barlow, University of Adelaide: Floating (under) ground
15:00 – 16:00 [in]ground matters
Chair: Alfredo Ramirez Galindo, AA
Eric Guibert, University of Westminster: Architectural Soils
Harshavardhan Bhat, MONASS: About a Monsoon Forest
16.00 – 16.15 Tea
16.15 – 17.30 [with]ground matters:
Chair: Radha D'Souza, University of Westminster
Naiza Khan, Goldsmiths College: Sticky Rice and Other Stories
Beth Cullen, MONASS: Brick
Labib Hossain, Cornell University: Wetness and the City: A Critical Reading of the Dry and Permanent Ground Through the Practice of Muslin Weaving in Bengal
 
17.30 – 17.45 Closing Remarks by David Chandler, University of Westminster
 
17.45 -19.00 Drinks
The event is free, but please register on Eventbright here.